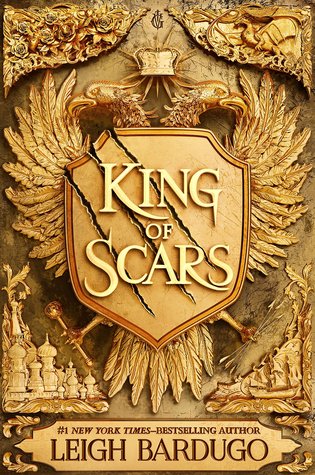 I love Leigh Bardugo's books with a deep passion. I started with Six of Crows and Crooked Kingdom, and then went back to read the three Grisha books: Shadow and Bone, Siege and Storm, and Ruin and Rising. This book goes back to the Grisha setting, but takes place shortly after the events in the Crows duology. Nina, the Grisha heartrender, is the link between the two. There are two separate stories here. Nina, still in deep mourning for her lover, is in Fjerda as a spy for Ravka, committed to saving the Grisha who are persecuted. They are also being threatened by the highly addictive drug, Jurda Parem, which increases their powers, but with devastating results.
The main characters are Nikolai Lantsov, young King of Ravka, and Zoya Nazyalensky, his general. (She's a talented Grisha squaller with power over wind and water.) Ravka is a country deeply in debt and threatened from all sides. Nikolai is desperately trying to keep everything together, juggle religion and politics, and pioneer new innovations in technology which will give Ravka the edge over their enemies, however he has a problem; Nikolai has been cursed with dark magic (by the Darkling in the earlier Grisha books) There's a monster living inside him. If it gets loose at night it will rampage across the countryside. Nikolai is expected to marry for political and dynastic reasons, but how can he until the monster is ejected?
This is the first in a pair of books which explores politics and curses, as well as different aspects of love and loss. Zoya and Nikolai's combative relationship dynamics are excellent. I've seen some reviews that hate the ending, but I thought it wholly appropriate, and, besides, there's another book to come, yet, so though one book has finished, the story is not yet ended. I can't wait for the next instalment.
Highly recommended.